Skip to content
Partner – EN
Admin
2019-07-08T09:28:36+00:00
An Integrated Omnichannel Solution –
For the way retailers work today
Seamless Shopping Experiences Across All Channels
In today's fast-moving retail market consumers hold the power. Keeping them engaged and satisfied means being present in as many places as possible. This is no small challenge for retailers, as the connected shopper wants to interact with them everywhere – at work, at home, in-store, on the move – and expects a consistent experience at every touch point.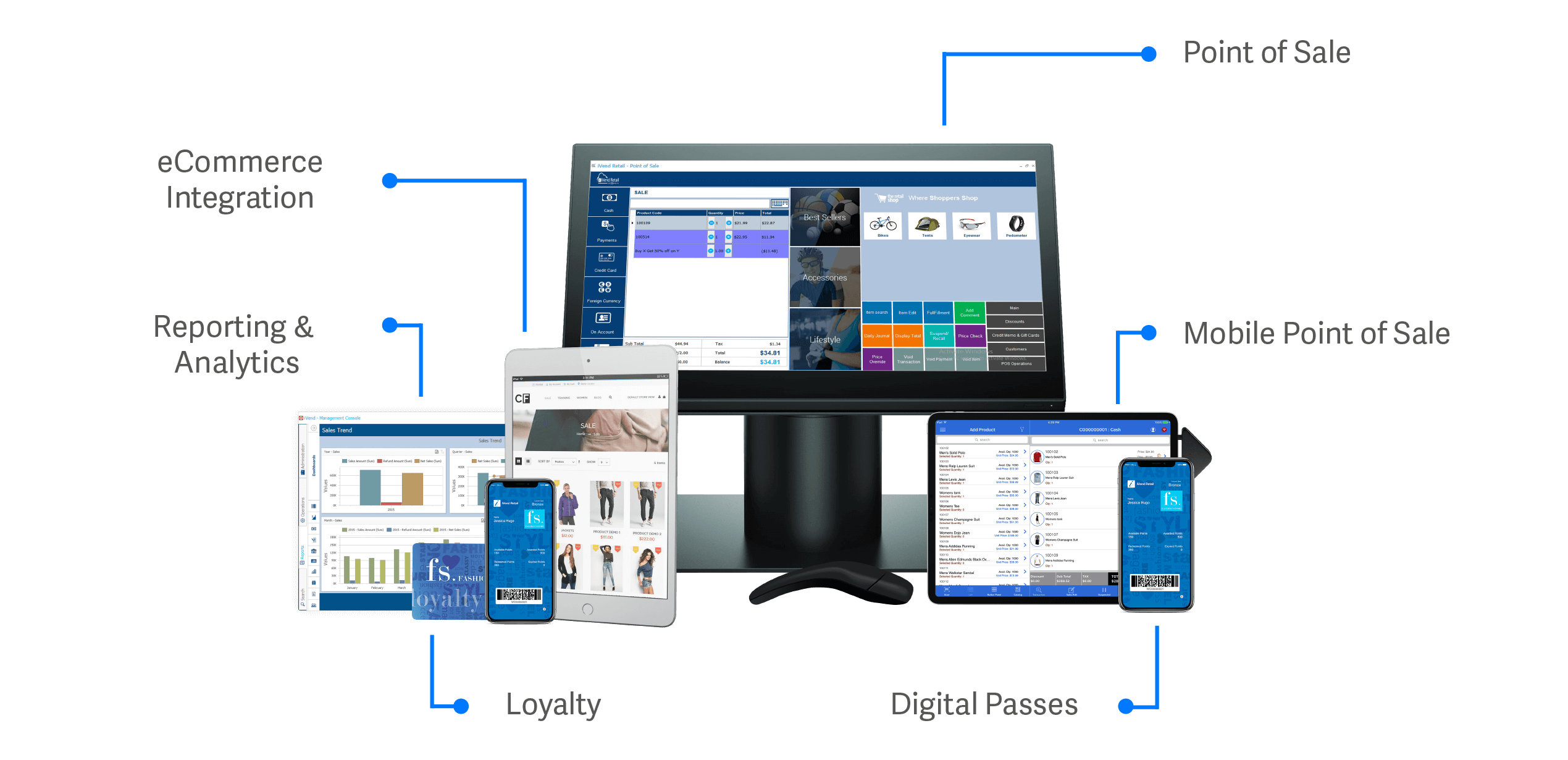 Delivering to these complex expectations means putting customers at the heart of the business, and sourcing solutions that provide one view of shoppers and what they want. iVend Retail's integrated solution enables retailers to maximize their sales and margin potential by delivering a seamless shopping experience across all channels. With iVend Retail, it is possible to develop a truly omnichannel strategy that recognizes and rewards shoppers wherever they interact.
An Enterprise Class Solution
A Trusted Solution
iVend Retail by CitiXsys is used by thousands of retailers in over 85 countries. iVend Retail delivers end-to-end retail management that enables brands to deliver seamless, convenient, personalized shopping experiences across all sales channels.
Real-Time Sales, Inventory and Revenue Data
With built-in reporting and analytics, iVend Retail gives retailers a 360-degree view across the entire retail enterprise, of inventory and of each customer. With a detailed, real-time picture of activity across the entire company infrastructure, retailers can make responsive decisions about allocation and replenishment based on demand.
A Simple, Easy To Use Interface
iVend Retail helps retailers establish a digital foundation to simplify their business with a detailed understanding of their customers' needs and the ability to serve them individually and seamlessly across all channels. Leading retailers are utilizing technology and software to deliver personalized customer experiences, as well as increasing operating efficiencies to reduce costs and run better.
Maintain Your Loyal Customers
Maintain a close relationship with your customers by introducing a loyalty program that integrates seamlessly with all your store locations, giving customers a wide variety of promotions, mobile notifications, digital coupons, and reward points, and allowing you to personalize incentivizes for customers to choose your stores.
iVend Retail Omnichannel Solutions
iVend POS
Fast, dependable Point of Sale
Execute quick transactions with custom branded, user-friendly terminal interfaces that work ONLINE and OFFLINE making your business never stop producing. Collect and manage customer details for more personalized service, fulfill Buy Online Pick-up In-Store transactions, improve promotion management with automated discounts, gift cards, integrated loyalty, eCommerce and more.
iVend Mobile POS
Transport your inventory in the store through iOs and Android devices
Empower store associates via any iOS or Android mobile device with access to all POS functions, so you can interact and transact with shoppers on the floor and process sales from anywhere in the store, or remotely.
eCommerce Integration
Sell to anyone, anywhere, anytime
Selling online, selling on mobile and integrating to sell more in stores has never been so simple. iVend for Magento enables retailers to seamlessly operate across digital and physical sales channels. iVend Retail's seamless integration with Magento Commerce ensures customer experience with your brand is the same wherever, whenever, and however, they prefer to shop.
iVend Loyalty
Implement a loyalty program that keeps your customers coming back
Develop a loyalty program to reward customer purchases and generate loyalty for your brand. iVend Loyalty is a flexible points and rewards platform available through physical or digital cards. iVend Loyalty provides the tools for retailers to develop deeper relationships with customers by leveraging purchase history and shopper preferences.
iVend Passes
Sending digital coupons, offers and gift cards to any Smartphone
Offer coupons, tailored offers, gift certificates and loyalty cards, digitally, on iOS or Android mobile devices with integrated geo-marketing capabilities. Market to your customers in more imaginative ways and at a lower cost.
iVend Reporting and Analytics
Gain useful insight into your business performance
Access reports and business intelligence tools to help you identify trends throughout your retail enterprise to maximize revenue and optimize success
iVend Hospitality
Integrated Omnichannel Solutions for Retail & Restaurants
iVend Hospitality is the Point of Sale solution designed to optimize food and beverage operations. Whether you run an elegant table service restaurant, a chain of busy cafes, a quick service establishment or cafeterias, iVend Hospitality is the solution for you. iVend Hospitality is a stable, secure and integrated enterprise-class solution specifically designed to run your retail and hospitality business in one, integrated system.
iVend Retail has been successfully integrated and certified with many leading Enterprise Resource Planning systems to help retailers optimize data use and gain visibility across corporate, subsidiary and supplier locations, simplify key processes for rapid scaling and provide actionable insights for smarter business decisions.
4 Ways Retailers Can Use Technology to Thrive in the Face of Industry Disruption
Download our free eBook to learn how the right technology can make your retail business more profitable and position you to best compete with online retailers.
Measurable Business Benefits
From POS, mobile and online stores to managing inventory with a single stock pool and loyalty programs, iVend Retail provides tangible business benefits:
5% increase in sales due to click and collect functionality
4% (of sales) savings in inventory carrying costs
Over 10% increase in sales due to assisted selling using mPOS
10% increase in sales due to use of loyalty or CRM data
Integrated Omnichannel Retail Management Solutions
With emphasis on performance and functionality, iVend Retail fully supports customer-facing Omnichannel and empowers the Enterprise Retailer by providing the right tools For The Way Retailers Work Today.
iVend Retail provides enterprise-wide inventory visibility leading to better fulfilment from in-stock inventory from anywhere in the enterprise. With iVend Retail, all departments rely on a single stream of data truth to make informed decisions faster, offer better management and streamline processes that drive profit, all the while delighting shoppers.